Welcome to Bowie School District
Thank you for visiting the Bowie Unified School District website. Located in southeastern Arizona, Bowie comprises a small, friendly community that is steeped in tradition. We take pride in the academic achievements of our students as well as the high level of parent and community involvement in our schools.
We hope you will take some time and browse our website to find out what we have to offer our students. And if you have questions, don't hesitate to contact us.

A Message from Our Superintendent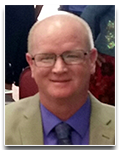 Welcome to the Bowie School District 14! 
It is evident that our schools have the best students, and it has been a great pleasure to witness the dedication, passion, and talent of all who represent Bowie USD #14. This includes the numerous community members who take an active role in the educational opportunities for our students.
I would like to extend my sincerest thank you to the entire community for its support of our students and our schools, and for your warm welcome of me during my first year at Bowie School District.
Greatly anticipating the future of our schools, I look forward to leading initiatives for the benefit of all students and the Bowie community.
Here is to an exciting fourth quarter!
Mr. Jeffry St. Clair
Superintendent